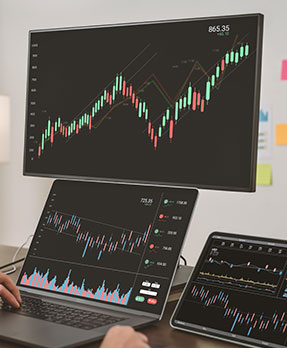 Introducing Brokers Program
Our Program setup is easy to start and has a highly competitive, volume-based rebate structure.

The IB Program is perfect if you have an FX content website, forum, or a group of traders that you would like to help get set up with JKV Global. Most IBs can earn a steady income stream by introducing or referring just a handful of clients a month to JKV Global.
Why Should You Become An Introducing Broker?
Zero Cap On Commissions
At JKV Global, there are literally no caps on the number of commissions you could earn every month. The more you refer, the more you earn. As simple as that.
Easy Onboarding Processes
the onboarding of you as an introducing broker and your clients aspart of our network. Minimal paperwork and seamless signup experience for both.
Transparent Reporting
Get all your referral details on your dashboard in the most transparent ways possible. Pullout insights and optimize your referral strategies any time.
User-friendly Platform
The learning curve is zero to minimal on our platform. From beginners to veterans, everyonecan become familiar with the tools and platforms for trading.
Custom Contracts
Adding another layer to our transparent operations, we offer contracts that can be customized and negotiated based on your preferences. No stringent bonding here.
Perennial Support
Should you have any questions at any point in your journey as an Introducing Broker, oursupport teams are always there by your side to help you out.
Do you want to talk to us before signing up? Do you have questions on trading with JKV Global? Or, do you want to simply drop us a message about your journey with us?

Reach out to us through any of the following ways. We're always listening.